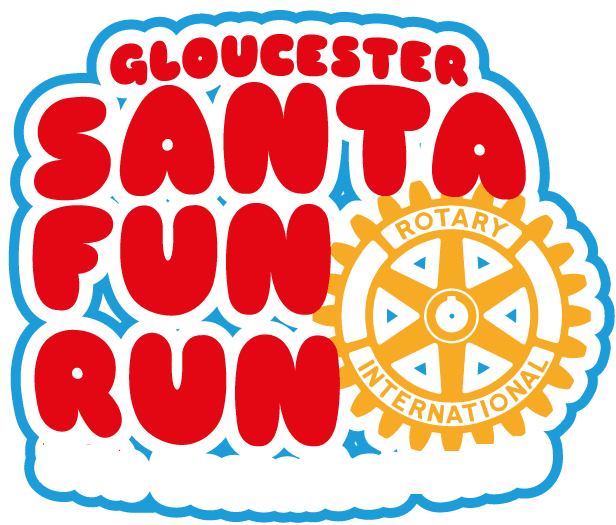 SATURDAY 10TH DECEMBER 2022
Santa Fun Run 2022 – Gloucester's Very own Santa Fun Run
#GlosSantaFunRun
Come and take part in Gloucesters very own Santa Fun Run and help a very worthwhile charity.
Update 15.12.2021
Next Years Glos Santa Fun Run date is Saturday 10th December 2022.  Don't forget to put it in your diary
Update 11.12.2021 After the Race
Thank you to everyone who took part today.  There were over 300 of us Santa's running round the city centre.  It was a great atmosphere and you help raise some much need funds for the James Hopkins Trust when they need it most;  so a huge thank you to you all.  Ill try and get some photos on this web site in the next few days. Next year lets see if we can get more people involved so please out the Saturday 10th December 2022 in your diary.  Thanks again and hopefully we'll see you next year.
Update 10.12.2021 Day before the race
I've had a few
queries
regarding the new Plan B and whether it will affect the fun run. Plan B only affects indoor events so it should not be a problem but we would advise you to wear a face mask and we have our Santa Snoods for sale £6 if you want to be safe and still look festive.
https://www.eventbrite.co.uk/e/glos-santa-fun-run-tickets-198310049697
Update 6.12.2021
Less than a week to go until the #GlosSantaFunRun on Saturday 11th December 9.30 Registration for 10am start.
We ran the route again on Saturday and all was ok so I'm happy to attach the route in video and jpeg format so you can familiarise yourself with the route ahead of time.
Below is the route in written format as well if that will help you.
If you have ordered stock it would be a great help if you could collect from the Cass-Stephens Office ahead of time as it will no doubt be very busy on the day. Address is Cass-Stephens Insurances Ltd, Windsor House, Barnett Way, Barnwood GL4 3RT but please email me on Matt@cass-stephens.co.uk ahead of time so I can get your stock items ready.
Good luck, Please keep spreading the word. We have 277 fun runners so far so it would be great if we could make it 300.
Start at Tree of Light and proceed over The Cross and down Westgate Street.
Turn right into College Street which is the main entrance to the Cathedral, turn left round College Green then proceed towards the left-hand side of the Cathedral through the archway to Millers Green.
The path will take you right around the rear of the cathedral to the Via Sacra.
Care here please as people got lost in 2019 and went onto Pitt Street then onto Northgate Street. That's not what runners should do. Please follow the path which skirts the Cathedral and continues right round the rear of the Cathedral and comes out at Via Sacra which is the shortcut that leads onto St Lucy's Garden and St Johns Lane and onto Northgate Street.
Continue through Via Sacra, care here as it's a pinch point, turn right onto St Johns Lane and onto Northgate Street. Turn right at the end of St Johns Lane onto Northgate Street and head up to The Cross.
Continue up to The Cross and turn left onto Eastgate Street and back towards the Tree of Light. The 1k Route finishes at that point so for all 1k runners please run through the finish line and if you've bought a medal, you can collect it at that point. Please remember that there are still people who are doing the 5k run so please try and stay out of their way.
For the 5k runners, continue past the Finish Line and Tree of Light (passing to the right of the Finish Line to avoid confusion) turning right just before the Eastgate viewing chamber, through the alleyway to the right hand side of Boots (Queens Walk) and over Bell Lane which is the entrance to the Eastgate Shopping Centre Car Park. Care here please as it's a blind spot coming out onto the car park entrance.
Continue over the car park entrance and down Constitution Walk which is the alleyway that runs behind the library and the museum.
At the end of Constitution Walk turn right at the new blocks of flats (Friars Orchard) and onto Greyfriars, continue past the ruins, passing left of St Mary De Crypt and turn right on to Southgate Street.
Continue to The Cross and turn left on to Westgate Street and back towards the Cathedral. This is one of 3 complete loops.
Repeat this loop 2 more times passing the Cathedral and St Mary de Crypt a total of 3 times.
Don't forget for the full 5k once you've lapped the Cathedral three times you still need to run past the finish line and do the back loop round St Mary de Crypt and turn right at The Cross from Southgate Street and finish at the finish line for the 5k route.
If in doubt follow the Santa in front or the Lead Runner
Update 17.11.2021
Don't forget that we have plenty of stock in for those of you that would like to buy some. Suits (includes a hat) £6, Hats £2, Snoods £6. A reminder that if you want a medal they will cost you extra £3.
Due to the bulky nature of some of these items and the fact we are trying to save money so all the profits can be given to the James Hopkins Trust, We wont be posting the stock out.
Instead it can either be collected on the day or even better would be beforehand from our offices Cass-Stephens insurances Ltd, Windsor House, Barnett Way, Barnwood, Glos GL4 3RT. Please email me on Matt@cass-stephens.co.uk to let me know when you would like to come so I can make sure that I have the stock in the office.
Thanks in advance and don't forget to spread the word. #GlosSantaFunRun
Update 15.11.2021
Great News – The stock has turned up. So we have plenty of medals now should you want one (DON'T FORGET THAT THIS YEAR, YOU HAVE TO ORDER AND PAY FOR A MEDAL SHOULD YOU WANT ONE) You don't get one just for taking part!
We also have plenty of Santa Suits, Santa Hats and Santa Snoods if you want to be extra safe. You'll have to log on and buy the stock online or you can buy it on the day (if we don't sell out that is)
Just a reminder that the fun run is in the CITY CENTRE this year like back in 2019 (Not round the park)
Please continue to spread the word. Lets get as many Santa's as we can into the city this year!!
See you there
We're back in the city and can't wait to see you in your festive fancy dress. This year it's on Saturday 11th December 2021 outside the Guildhall. Registration from 9.30am for a 10.00 start.
Last year you helped raise over £1,800 for local charities; so let's see if we can beat that this year!
Run, Walk, Stroll or Jog a 5-kilometre course:
This year the #GlosSantaFunRun is on Saturday 11th December 2021 in the city. Unfortunately, COVID19 is still out there so we're planning on doing something different this year and giving you the choice to either come into the city and do the fun run like normal; or you can choose to do your own virtual fun run at your convenience. Last year the virtual event was such a success and by offering this choice it means that people who for whatever reason would not be able to make the actual day; will still be able to join in.
So, for those that wish to join us in the city, please sign up as normal and for those that wish to do the virtual event, please sign up but select virtual fun run and then choose when and where to do your fun run; all we ask is that you obey the current regulations regarding COVID 19 and respect other people whilst doing the run.
This year we have the Santa Snoods for sale at £6 each (currently on back order) if you want one to keep you COVID safe during your run. You can collect them from Cass-Stephen's office in Barnwood or on the day.
This year due to COVID I've had a job to order any stock so I'm limited at the moment on medals and as some of you wish simply to take part for the fun of it and don't require a medal, I've set the prices accordingly. So, you pay slightly less for taking part and pay extra if you wish to have a medal. That way I don't have to limit numbers of runners but can just restrict the numbers on the medals.
During this worldwide pandemic Charities have not been able to carry out their normal fund-raising and yet they are expected to help out even more than they were in the past; as such they need our help more than ever. Basically, they need your help to keep going
So we are here to try and raise some much-needed funds to support our nominated charities The James Hopkins Trust and have taken all reasonable precautions to make it safe for us and the public whilst doing so.
All the profits go to the charity so please help us to help these charities, who will in turn help the people of Gloucester get back to some sort of normality
A FUN DAY FOR ALL –
Please DRESS UP AS SANTA OR AN ELF to make it more fun:
So we look forward to you joining us by running in your full Santa Set up including your Santa Snood on Saturday 11th December 2021 in the City or during that week if you're doing the virtual fun run and posting your photos to show that you've done it on our Social Media. Please use #GlosSantaFunRun
So put on a Santa Hat and Snood or a full Santa Outfit and run, walk or be pushed round a 1k or 5k.
This event is organised by the Rotary Club of Gloucester and sponsored and supported by Gloucester BID, Nettl and Cass-Stephens Insurances Ltd.
Got a Question?
Get in touch…
Prices are as follows:
 (Please note medals have to be purchased separately)
Adult (16+): £6.00
Under 16s:  £2.00 
Teams of 4: £10.00 
Blue Badge Holders/Wheelchair Users – £FREE
Virtual Fun Run: £5.00
 Medals : £3.00
Add ons:
Santa Hat:                       £2.00
Santa Suit:                       £6.00
Santa Snood Extra one  £6.00
Donations to the Charity – James Hopkins Trust £Whatever you can spare
(transaction fee may apply)
Please note that stock is on back order due to COVID transport problems so check back regularly to see if its arrived.  Apologies for any inconvenience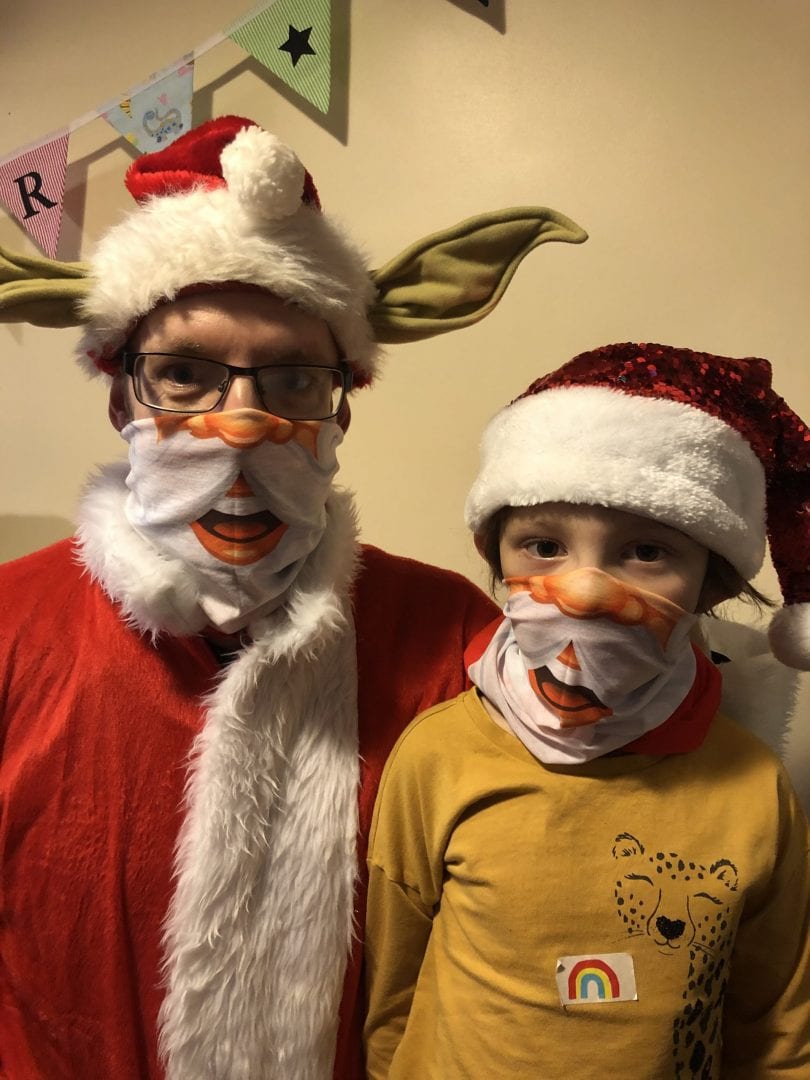 Disclaimer:
Terms and Conditions and Privacy

Organisers
The Glos Santa Fun Run is organised by the Rotary Club of Gloucester (charity no. 274097), c/o Cass-Stephens Insurances Ltd, Windsor House, Barnwood Glos GL4 3RT (the Club).
The term Organisers in what follows refers to the Club and any individuals involved in organising the Event.

Liability
The organisers take no responsibility for your activity and you agree to ensure your own health and safety and that of others affected when participating.
You agree that you have not relied on any information contained in this website or otherwise provided to you by the organisers of this event.
You further agree to ensure that you comply with any law, by-law, regulation or governmental advice when participating.
The Organisers may not be held liable even in case of negligence.
Nothing in the foregoing is intended to exclude the Organisers liability for personal injury or death however you agree that such liability can not arise.

Privacy
By providing information to the Organisers through registration, contact, results reporting or otherwise, you agree that the Organisers have a legitimate interest in using that information in order to publicise the Event, future similar events and the work of the Organisers.
You thereby grant the Organisers an irrevocable licence to use your information, including any photographs or similar that you provide in this way.

Intellectual Property
By publishing logos and other intellectual property on this site, no person is granted any licence to reproduce the same.

Refunds
The monies paid in relation to this event are paid by way of charitable donation. As a result, you agree that no refund will be made under any circumstances.
This website is produced for the Glos Santa Fun Run by the Rotary Club of Gloucester

This message is only visible to admins.

Problem displaying Facebook posts.
Click to show error
Error:
Error validating access token: The session has been invalidated because the user changed their password or Facebook has changed the session for security reasons.
Type:
OAuthException
Subcode: 460
Solution:
See here
for how to solve this error